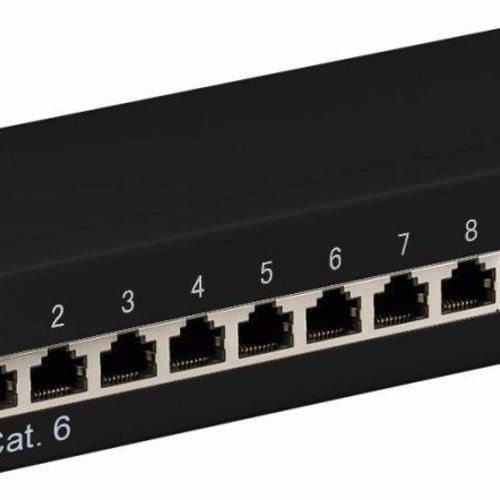 Patch panels
Patch Panels
Een patchpanel is een paneel met een groot aantal aansluitbussen, waarop met kabels (patchkabels) tijdelijke of permanente verbindingen kunnen worden gemaakt. In moderne kantoorgebouwen bevindt zich meestal een patchpanel voor het maken van telefoon- en netwerkverbindingen. In elke werkruimte bevinden zich een aantal contactdozen met RJ-45-jacks. Deze zijn verbonden met de jacks op het centrale patchpanel. De aansluitingen van de huistelefooncentrale en het internet eindigen ook op het patchpaneel. Bij het patchpanel horen een groot aantal RJ-45-kabels met een lengte van 1 à 2 meter. Wil men ergens een telefoon of computer aansluiten en verbinden met apparatuur elders in het gebouw, dan hoeft men enkel een verbinding te maken tussen twee jacks op het patchpanel.


Verschillende soorten
Bij netwerkkabel hebben wij verschillende soorten patch panels in het assortiment. Van een Cat5e patch panel tot aan cat6a patch panels en rj45 patch panels. Daarnaast zijn er van ieder soort panel ook verschillende maten te verkrijgen. De Cat5e, Cat6a en patch panel cat6 zijn zowel in 6, 8, 12 als 24 poorts patch panels verkrijgbaar, deze hebben wij bij netwerkkabel.eu allemaal in het assortiment.