Je beoordeling toevoegen
High Quality 4K HDMI 2.0 kabel met ethernet 2M
High Quality 4K HDMI 2.0 kabel met ethernet 2M
€ 13,99
( € 16,93 Incl. btw)
ATC gecertificeerde High Quality 4K HDMI 2.0 kabel met ethernet 2M Lees meer
Laagste prijsgarantie!
Verzending vanaf slechts € 4,95
Betaal achteraf na 14 dagen
2 jaar garantie op je aankoop
9.1
Wij scoren een 9.1 uit 5583 reviews
Beschrijving
OMSCHRIJVINGHigh Quality 4K HDMI 2.0 kabel met ethernet

HDMI cable for the transmission of high definition video and multichannel digital audio through a single cable with easy to plug connectors and excellent signal transmission. It supports data rates up to 10.2 Gbps and is suitable for 1080p Full HD and up to 2160p.

The optimized HDMI cable is specially designed for the latest HDMI version. The HDMI Ethernet Channel technology technology consolidates video, audio, and data streams into a single HDMI cable, and enables high-speed networking at up to 100 Mbps. Audio Return Channel allows an HDMI-connected TV with a built-in tuner to send audio data "upstream" to a surround audio system. Imaging 3D via HDMI and support all HDTV formats including 480p, 720p, 1080i, 1080p and 4K (4096 x 2160). In addition to RGB color and x.v.Color, it supports for three additional color spaces (sYCC60, Adobe RGB, and Adobe YCC601), enabling to deliver better accurate color on an HDTV.


2x HDMI (Type A) 19-pin male
Gold plated contacts
Transmission of audio, video and ethernet data
Standard: High Speed with Ethernet
480i, 480p, 720p, 1080i, 1080p, 1440p, 2160p
Max Data Transfer: Type A+C: 8.16 Gbit/s

Specification:
HDMI High Speed with Ethernet Cable, Gold plated, Type A, M/M, length: from 1m to 20 m
UL20276 (28 AWG*lPR+EAM)*5C+28 AWG*4C+AEB OD: 7.3 mm Black
HDMI male 19P Solder Type, Insulation: Black, Gold Plated
Transparent PE
PVC 65P Color: Black
HDMI Transparent Dust Cap
PVC 45P Color: Blue

Electrical Test:
1. 100% Test (Open, Short, Mis Wire)
2. Contact Resistance: 2 ohm max.
3. Insulation Resistance: 10 m ohm min.
4. Hi-Pot Test: DC 300V/10 ms
0
sterren op basis van
0
beoordelingen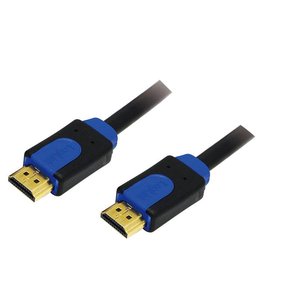 High Quality 4K HDMI 2.0 kabel met ethernet 2M
€ 13,99
( € 16,93 Incl. btw)